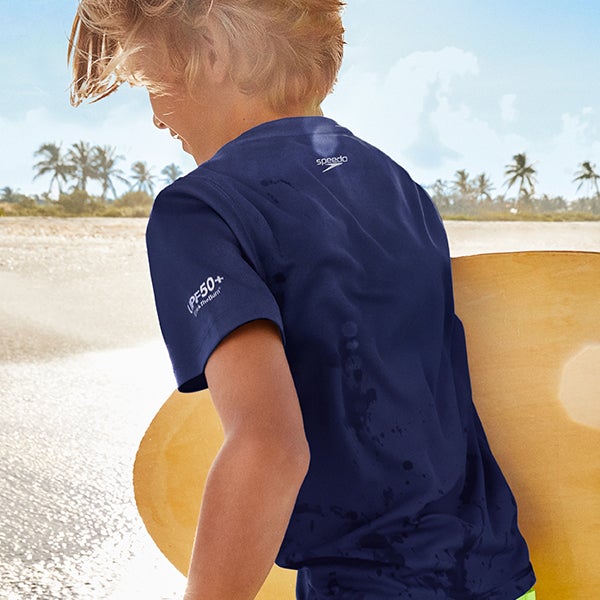 What Is A Rash Guard?
As relaxing as a long day in the surf and on the beach can be, the truth is that it can take its toll on your body. For that reason, it's important that you take the proper steps to protect yourself while you're out enjoying the warm sun and cool waters. Of course, the virtues of wearing sunscreen to protect your skin are widely known, but there are additional protective tools and apparel available to surfers, swimmers, and other beachgoers of all ages to help ensure that your relaxing time is also safe and comfortable.
THE RASH GUARD
Among these items is the rash guard. A rash guard, sometimes known as a sun shirt, is a flexible, moisture-repelling shirt, usually made from nylon or polyester, that helps guard your skin against not only UV rays from the sun but sand and rough surf, too. Designed with surfers in mind, this protective layer offers a warm-weather alternative to a full wetsuit, preventing rash caused by repeatedly sliding on your sandy or waxy surfboard and enabling them to weather the waves comfortably for longer. But rash guards aren't reserved for just surfers. Sandcastle builders and sun bathers of all ages can wear them during their trip to the beach to prevent irritation caused by abrasive sand and add extra cover against the harsh rays of the sun.
RASH GUARD OR SWIM SHIRT: WHICH IS RIGHT FOR YOU?
Rash guards, which can be found in both long- and short-sleeve options, are usually relatively form-fitting, not unlike a wet suit. While their stretchy material still usually provides a high degree of comfort, you may wish to opt for a protective top that's looser and can be worn more casually or away from the water, even. For that, you can turn to a swim shirt, an increasingly popular, more casual option that offers much of the same protection from the elements. These shirts are available for men, women, and children that are in need of a loose-fitting, fast-drying top that blocks harmful rays and annoying rashes.
No matter which protective apparel you might ultimately choose, you can find all the swimwear you need to look and feel your best while you're out on the water or basking in the sand. Explore men's and women's rash guards and swim shirts and swim shirts to find the right piece for your protection and comfort today.
EXPLORE MORE