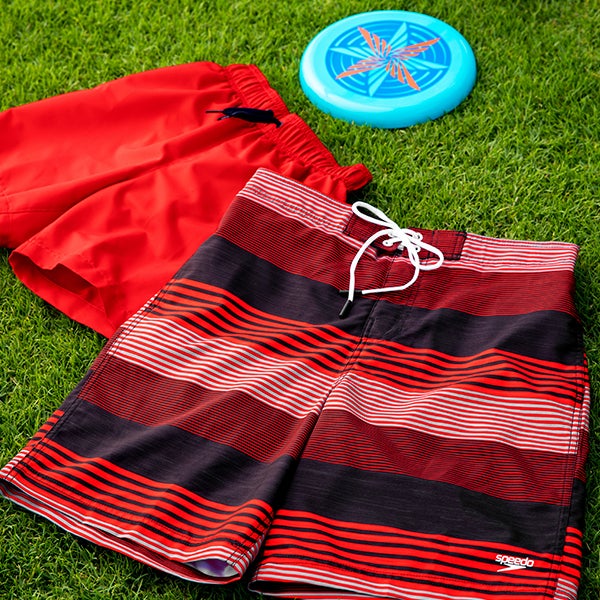 What Are Boardshorts?
Looking for some new swimwear and not sure if boardshorts are right for you? Find out all of the details you need to make an informed decision on your next piece of swimwear.
Boardshorts are a versatile piece of swimwear that often easily double as casual wear for when you're on dry land. Initially designed with surfers in mind, boardshorts are typically about knee-length, offering full coverage and durability to those out chasing waves. Meanwhile, their usually flexible fabric can offer a fuller range of motion than many more traditional swim trunks. This material—often nylon, polyester, or a mix—also repels water and dries quickly so you aren't weighed down.
Thanks to comfort and adaptability that they afford those who wear them, though, boardshorts—or, as they're sometimes called, jams or surf trunks—fast became a popular swimwear choice not just for surfers but for many beachgoers.
BOARDSHORTS VS. SWIM TRUNKS
The most apparent difference between a pair of boardshorts and swim trunks is their fit. As mentioned previously, boardshorts usually reach the knee. Swim trunks, on the other hand, are typically cut at least a couple inches shorter at the inseam. Trunks also differ in that they're typically fitted with elastic waistbands that can be tightened by drawstrings. While many boardshorts also have drawstrings, they're more often secured by Velcro and may lack any, or least as much, elastic around the waist. Hybrid shorts, which are boardshorts designed even more clearly to double as both swim apparel and fashionable casual wear, usually ditch the drawstring and Velcro altogether in favor of a button and zipper.
Beyond these details, one of the most common differences between boardshorts and swim trunks is what's found on the inside of them. Standard swim trunks feature a supportive inner lining, often made from breathable mesh material. In addition to support, this lining helps keep swim trunks from sticking to your legs after you've been soaking in the water. While some boardshorts feature a mesh lining, it's more common that they don't, making the choice between these two types of swimwear, in the end, a matter of personal preference.
Thinking that boardshorts might be the right choice for you? Learn about what to wear under your boardshorts to ensure that you stay as comfortable as possible when you're in and out of the water. And find the right, stylish new pair by exploring the boardshorts available from Speedo today.
EXPLORE MORE