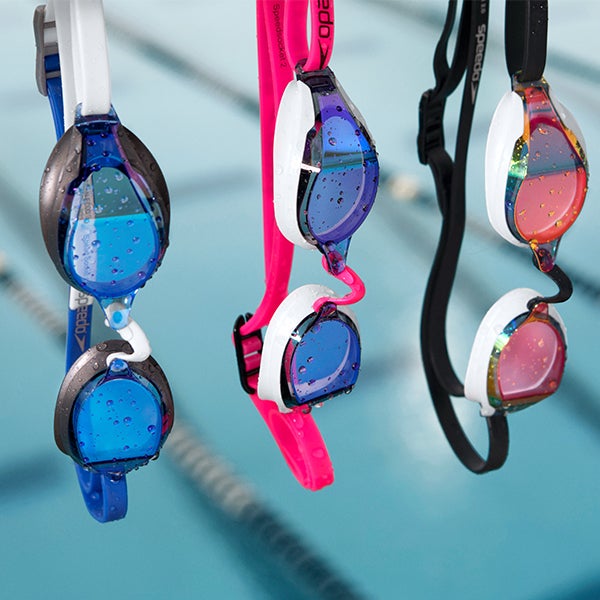 How To Clean Swimming Goggles

There are few things worse than getting into a good groove and having your favorite goggles fog up on you. But when you're in a competition, unclear goggles could be the thing that keep your from coming out on top. Learn how to properly clean and protect your swimming goggles to keep your path to victory clear.

FIND YOUR FIT
You can't keep your goggles clean at all if you don't have the right fit for your face. Every face is different, and some goggles that work great for one person may be a leaky headache to another. When picking out goggles, figuring out the fit should be pretty easy. Gently hold the goggles up to your eyes without using the strap. Press down lightly. You should feel a slight suction and comfortable, even pressure around the eyes. If you do, you have found your fit.

ANTI-FOG SOLUTION
It's good practice to keep a bottle of Anti-Fog Goggle Solution in your swim kit. By coating the inside of your goggle lenses with a few drops of anti-fog solution and then giving them a quick rinse, you'll help stop your perspiration from condensing into a hindering haze.
There are also a number of household items you can use as anti-fog substitutes when you're in a pinch, including saliva, baby shampoo, non-abrasive toothpaste, and even shaving cream.
HOW TO CLEAN SWIMMING GOGGLES AFTER YOUR SWIM
It's important to take a moment to clean your swimming goggles after you've been using them. This will help them perform better, last longer, and avoid scratching. Rinse your lenses with lukewarm water and then buff them with a microfiber cloth. To clean the straps, massage soapy water into the straps and then rinse it away with clean water. Be careful not to get the soap onto the lenses or gaskets of your goggles. Soap can strip away the anti-fog coating on goggles.
When you've finished washing your goggles, let them air dry in a flat position. Throwing wet goggles into your swim bag can cause them to grow bacteria or mold.
STORE CAREFULLY
Part of taking the best care of your goggles as possible is storing them properly. It can be tempting to just grab everything and go when you're heading out the door. However, keeping your goggles clean and scratch free means they shouldn't be banging up against your water bottle and ear plugs. Store your swimming goggles in a dedicated goggle case to keep them in top condition between sessions.
Learning how to clean your swimming goggles will help you keep them in great shape for years to come. Remember to clean them regularly and carefully to keep you seeing your best.
EXPLORE MORE