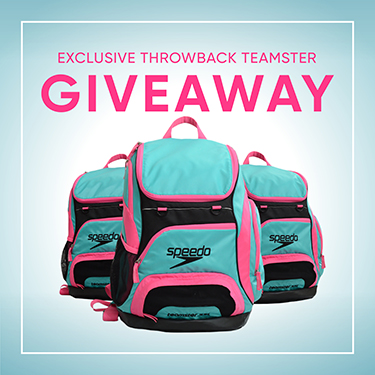 Enter to Win an Exclusive Teamster Backpack!
Want to score this throwback, fan-favorite Teamster that's not available to the public?
One lucky winner will receive this best-selling Teamster bag that'll be your new go-to summer bag to pack all your swim, beach or everyday gear.
Good luck!

Terms and Conditions associated with May 2022 Speedo USA Teamster Backpack Giveaway
NO PURCHASE OR PAYMENT IS NECESSARY TO ENTER OR WIN THIS PROMOTION. A PURCHASE OR PAYMENT WILL NOT INCREASE YOUR CHANCES OF WINNING. VOID WHERE PROHIBITED OR RESTRICTED BY LAW OR REGULATION.
BY COMPLETING AND SUBMITTING AN ENTRY FOR THE PROMOTION, YOU AGREE TO THESE OFFICIAL RULES ("OFFICIAL RULES"), WHICH FORM A CONTRACT. WITHOUT LIMITATION, THIS CONTRACT INCLUDES INDEMNITY OBLIGATIONS ON THE PART OF ENTRANT AND A LIMITATION OF ENTRANT'S RIGHTS AND REMEDIES.
THIS PROMOTION IS IN NO WAY SPONSORED, ENDORSED OR ADMINISTERED BY, OR ASSOCIATED WITH META, FACEBOOK, OR INSTAGRAM, INC.
1. ELIGIBILITY: The Speedo USA Teamster Backpack Giveaway ("Promotion") is open to legal residents of the United States and the District of Columbia who are eighteen (18) years of age or older (each an "Entrant," together the "Entrants"). Persons in any of the following categories are NOT eligible to win the Prize (as defined below): (a) employees or agents of Speedo USA, Inc., 6251 Katella Avenue, Cypress, CA 90630 ("Sponsor") and their respective employees, and each of its parent company, affiliated companies, and subsidiaries, and (b) persons who are in the immediate family of any person in any of the preceding categories (including mother, father, sister, brother, daughter, son, spouse, grandmother, grandfather, children or grandchildren), regardless of where they live; or persons who reside in the same household, whether related or not, as any person in the preceding category. All eligibility is subject to all federal, state, and local laws and regulations.
2. TIMING: The Promotion begins at 6:00 a.m. PST on Monday, May 23, 2022, and ends at 11:59 p.m. PST on Tuesday, May 31, 2022 ("Promotion Entry Period"). Sponsor's designated computer server is the official time-keeping device for the Promotion.
3. HOW TO ENTER:
Visit us.speedo.com/giveaway.list ("Promotion Website") during the Promotion Entry Period and follow instructions to enter. You must complete and submit all required data fields of the Promotion entry form which may include your first name, last name, valid email address, and agree to the Official Rules. Upon successful registration, you will receive one (1) entry into the Promotion drawing. Limit one (1) entry per person, per household ("Entry") during the Promotion Entry Period. No entries will be accepted that do not follow Promotion Website instructions. An online entry is "received" when the Sponsor's designated servers record the entry. Proof of delivery or receipt of entry will not be deemed by the Sponsor as proof of entry into the Promotion. All entries become the sole property of Sponsor. Entries will not be acknowledged or returned. All entries are subject to verification and approval by the Sponsor. Any attempted form of entry other than as described herein is void. Sponsor will determine in its sole discretion, what constitutes a valid entry. All materials submitted become the property of the Sponsor and will not be returned or acknowledged.
Sponsor reserves the right to cancel or modify the Promotion if fraud or technical failures impair the integrity of the Promotion as determined by the Sponsor, in its sole discretion, and to award the prizes based on Eligible Entries received prior to the cancellation.
By participating in the Promotion, each Entrant unconditionally accepts and agrees to comply with and abide by the Official Rules and the decisions of Sponsor.
4. WINNER DETERMINATION AND PRIZE DETAILS: Within three (3) business days of the end of the Promotion Entry Period, Sponsor will randomly select one (1) winner from the total entries received to win a prize of one (1) Teamster Backpack (Approximate Retail Value: $75.00 USD). Winner will be selected at random. The odds of being selected will depend on the number of total eligible entries received during the Promotion Entry Period.
The Prizes are awarded "as is" with no warranty or guarantee, either express or implied. Winner must provide Sponsor will all required information, including an accurate mailing address, in order to receive the Prize. Sponsor reserves the right to substitute a prize, or any elements thereof, for one of equal or greater value if the designated prize, or any elements thereof, should become unavailable for any reason.
5. WINNER NOTIFICATION AND PRIZE ACCEPTANCE: Sponsor will attempt to notify potential Winner by email, using the contact information provided at the time of entry. Winner must respond by 12:00 p.m. PST on June 30, 2022, or the prize is forfeited. Sponsor shall have no liability for any notification that is lost, intercepted, undeliverable, or not received for any reason. At Sponsor's sole discretion, an alternate Winner may be selected after 12:00 p.m. PST on June 30, 2022, from all remaining eligible entries received during the relevant Promotion Entry Period ("Alternate Winner").
The Winner or Alternate Winner grants full permission to the Sponsor and its officers, directors, employees, agents, successors, and assigns, promotion agency and anyone authorized by any of them, to use Winner's entry, social media, name, photograph, likeness, voice and biographical data, in whole or in part, in any and all media for the purposes of advertising, publicity and trade without additional compensation or right of approval. Winner or Alternate Winner may be required to complete and return an affidavit of eligibility and or/sign publicity and liability releases before prize will be awarded. Each Winner or Alternate Winner is responsible for any and all applicable fees, service charges, surcharges, all insurance, federal, state, and local taxes, and any other unspecified expenses associated with acceptance or use of the prize.
6. ENTRY NOTES. Any attempted form of entry other than as described herein is void. Sponsor reserves the right to cancel or modify the Promotion if fraud or technical failures impair the integrity of the Promotion as determined by the Sponsor, in its sole discretion, and to award the prize based on eligible entries received prior to the cancellation.
Entries made on another's behalf by any individuals or other entities, including but not limited to, commercial sweepstakes/contest subscription notification and/or entering services, or generated by script, macro or other automated means, will be declared invalid and disqualified for this Promotion. Tampering with the entry process or the operation of the Promotion is prohibited, and any entries deemed by Sponsor, in its sole discretion, to have been submitted in this manner will be void. In the event a dispute regarding the identity of the individual who actually submitted an entry cannot be resolved to Sponsor's satisfaction, the affected entry will be deemed ineligible.
Sponsor is not responsible for problems with any Promotion-related information or for any other technical malfunctions of electronic equipment, computer on-line systems, servers, or providers, computer hardware or software failures, phone lines, failure of any electronic mail to be received by Sponsor on account of technical problems, traffic, congestion on the internet or the web site, or any other technical problems related to web site entries including telecommunication miscommunication or failure, and failed, lost, delayed, incomplete, garbled or misdirected communications which may limit an Entrant's ability to participate in this Promotion.
Sponsor will be collecting personal data about the Entrants in accordance with Sponsor's privacy policy which can be found at http://us.speedo.com/privacy-policy.list.
7. DISCLAIMER: Sponsor makes no warranties, and hereby disclaims any and all warranties, express or implied, concerning any prize furnished in connection with the Promotion. WITHOUT LIMITING THE GENERALITY OF THE FOREGOING, PRIZES ARE PROVIDED "AS IS" WITHOUT WARRANTY OF ANY KIND, EITHER EXPRESS OR IMPLIED, AND SPONSOR HEREBY DISCLAIMS ALL SUCH WARRANTIES, INCLUDING BUT NOT LIMITED TO, THE IMPLIED WARRANTIES OF MERCHANTABILITY, FITNESS FOR A PARTICULAR PURPOSE AND/OR NON-INFRINGEMENT.
8. GENERAL CONDITIONS: The Sponsor are not responsible for lost, late, incomplete, inaccurate, stolen, misdirected, undelivered, delayed, garbled, postage due or damaged entries; or for lost, interrupted or unavailable network, server, Internet Service Provider (ISP), website, or other connections, availability or accessibility or miscommunications or failed computer, satellite, telephone or cable transmissions, lines, or technical failure or jumbled, scrambled, delayed, or misdirected transmissions or computer hardware or software malfunctions, failures or difficulties, or other errors or difficulties of any kind whether human, mechanical, electronic, computer, network, typographical, printing or otherwise relating to or in connection with the Promotion, including, without limitation, errors or difficulties which may occur in connection with the administration of the Promotion, the processing of entries, the announcement of the prize or in any Promotion-related materials. Sponsor is also not responsible for any incorrect or inaccurate information, whether caused by site users, tampering, hacking, or by any equipment or programming associated with or utilized in the Promotion. Released Parties are not responsible for injury or damage to Entrants' or to any other person's computer related to or resulting from participating in this Promotion or downloading materials from or use of the website. Persons who tamper with or abuse any aspect of the Promotion or website or who are in violation of these Official Rules, as solely determined by Sponsor, will be disqualified and all associated entries will be void. CAUTION: ANY ATTEMPT BY A PERSON TO DELIBERATELY DAMAGE ANY WEB SITE OR UNDERMINE THE LEGITIMATE OPERATION OF THIS PROMOTION IS A VIOLATION OF CRIMINAL AND CIVIL LAWS AND SHOULD SUCH AN ATTEMPT BE MADE; SPONSOR RESERVES THE RIGHT TO SEEK DAMAGES FROM ANY SUCH PERSON TO THE FULLEST EXTENT PERMITTED BY LAW. If for any reason the Promotion is not capable of running as planned due to infection by computer virus, bugs, tampering, unauthorized intervention, fraud, technical failures, or any other causes beyond the control of the Sponsor, which corrupts or affects the administration or proper conduct of this Promotion, the Sponsor reserves the right at its sole discretion, to disqualify any individual who tampers with the entry process, and/or to cancel, terminate, modify or suspend the Promotion or any element thereof. In the event of cancellation, Sponsor will award the prize from among all eligible, non-suspect entries received prior to cancellation by random drawing. The use of any automated entry software or any other mechanical or electronic means that permits the Entrant to automatically enter repeatedly is prohibited. Any entries found or suspected to be submitted in this manner will be deemed 'void' by the Sponsor. Entrants, by participating, agree that Sponsor and its respective parents, affiliates, subsidiaries and advertising and Promotion agencies and all of their respective officers, directors, employees, representatives and agents will have no liability whatsoever for, and shall be held harmless by Entrants against, any liability, for any injuries, losses or damages of any kind, including death, to persons, or property resulting in whole or in part, directly or indirectly, from acceptance, possession, misuse or use of any prize or participation in this Promotion. The Sponsor shall not be liable for any delay in performing or partial or total failure to perform any of its obligations to the Winners under these Official Rules if such delay or failure is caused by circumstances beyond its reasonable control, including - without limitation - delays, changes, disruptions, cancellations, diversions or substitutions howsoever caused, including - without limitation - as a result of war, terrorist action or threatened terrorist action, strikes, hostilities, civil commotions, accidents, fire, flood, natural catastrophes or global health crises.
10. DISPUTES: Except where prohibited, Entrant agrees that: (1) any and all disputes, claims and causes of action arising out of or connected with this Promotion or any prize awarded shall be resolved individually, without resort to any form of class action, and exclusively by the state of California or the appropriate Court located in the state of California; (2) any and all claims, judgments and awards shall be limited to actual out-of-pocket costs incurred, including costs associated with entering this Promotion, but in no event attorneys' fees; and (3) unless otherwise prohibited, under no circumstances will Entrant be permitted to obtain awards for, and Entrant hereby waives all rights to claim, indirect, punitive, incidental and consequential damages and any other damages, other than actual out-of-pocket expenses, and any and all rights to have damages multiplied or otherwise increased. All issues and questions concerning the construction, validity, interpretation and enforceability of these Official Rules, or the rights and obligations of the Entrant and Sponsor in connection with the Promotion shall be governed by, and construed in accordance with, the laws of the State of California, without giving effect to any choice of law or conflict of law rules (whether of the State of California or any other jurisdiction), which would cause the application of the laws of any jurisdiction other than the State of California.
11. WINNERS LIST: For the name of the Promotion prize winner, mail a self-addressed stamped envelope to: Speedo USA Teamster Backpack Giveaway
Winners List, Attn: eCommerce Department, 6251 Katella Avenue, Cypress, CA 90630. Request must be received within 30 days of the winner's announcement. Allow 6 weeks for fulfilment of request.